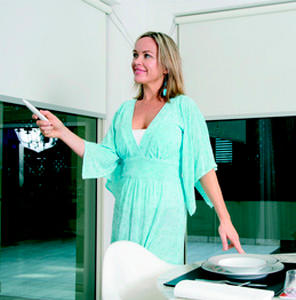 Creative Curtains by Design provides a range of motorized internal blinds and motorized curtain rails for homes and offices in Sydney. Remote control blinds and curtains offer the ideal introduction to home automation, offering not only added convenience, but also increased energy efficiency, security and safety.
Motorised and remote control tracks are available through Creative Curtains by Design who can supply and install motorised tracks for blinds or curtains with either a standard or sloping track (for sloping windows). They also specialise in remote control blind and curtain tracks to deal with oversized and hard to reach window coverings. Glare can effortlessly be reduced, and privacy instantly achieved. Using these systems means that opening and closing your curtains has never been easier or more convenient; no more tangled cords or broken rails and no more dirty hands on your curtains! Call Creative Curtains by Design today and ask for a no obligation measure and quote and feel secure that they will listen to your interior decorating needs.
The environment created within your home or office contributes significantly to the comfort, health and well-being of everyone within the interior spaces. The addition of, for example, motorized window shades to your Sydney property, maximises the functionality of the spaces, increases flexibility and lengthens the life span of your curtains and blinds.
Indoor electric blinds, Sydney
Motorized tracks for blinds and curtains are becoming increasingly popular in Sydney properties, mainly due to their convenience, light filtering capabilities and a growing interest in home automation. They are ideal for high or hard to reach windows where opening and closing curtains or blinds can become quite dangerous, and for families with young children or pets, because there are no cords hanging down.
Motorised roller blinds and curtains allow Sydney siders to open and close their window treatments without needing to physically do so themselves. These electric window coverings can even be included in a home automation system; blinds can be raised or lowered and curtains open or closed, depending on the light shining through the windows.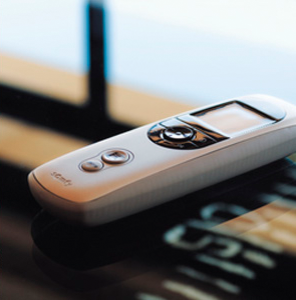 Installation of motorized internal blinds, Sydney
Over the past 18 years, Creative Curtains by Design has built a reputation for both our high quality window treatments and our specialised installation service. We will not only design and manufacture your curtains and blinds, but we will also install the motorised tracks for blinds and curtains in your Sydney home or office (standard or sloping tracks).
CREATIVE CURTAINS BY DESIGN USES AND RECOMMENDS ALL SOMFY MOTORS FOR OUR MOTORISATION PRODUCTS:

For more information on our custom made motorised curtains and blinds in Sydney, call Creative Curtains by Design on 1300 137 198 or email us at ccbd1@tpg.com.au send us an online enquiry today.